Who doesn't love a good camping holiday? It allows you the opportunity to get away from the hustle and bustle and enjoy a slice of nature for a little while. To get together with your favourite people and share some beautiful memories. Of course, camping in a tent is fun enough as it is; but having a caravan takes it to the next level. But, how do you enhance it even further? By some quality camping mats for your caravan!
I know what you're thinking: how can some caravan camping mats make that much of a difference? And the truth is, they're not going to set your world alight. It's not as though camping was boring up until the invention of caravan camping mats. But, it's about every little detail which completes a beautiful picture.
So, picture this: You're sat outside your caravan with your besties, with a couple of comfortable fold-out chairs. You've got a massive fold-out camping mat covering a nice outdoor 'porch' area for your caravan. Feels better, already right?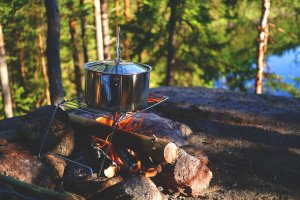 x
1 – Stop walking dirt into your caravan
If there's one thing we know about camping, it's that sometimes it gets very messy! Particularly if there's a little bit of rainfall. You don't want to exit your caravan only to immediately touch down on soggy mud and wet earth. The same applies to when you walk into your caravan; how frustrating is it when people drag in dirt and ruin your lovely carpets?!
So, by having a caravan camping mat, you can create a space where everyone can comfortably take off their muddy shoes and enjoy a 'dirt-free zone' inside the caravan itself.
2 – An affordable extension for your caravan
A caravan camping mat adds an extra section to your caravan. Couple that with a caravan awning and you've got yourself an extension! You can sit under there with your family and either enjoy some respite from the sun or stay out of the rain! You can use this space to store any bits that you want to keep outdoors, without exposing them to the elements.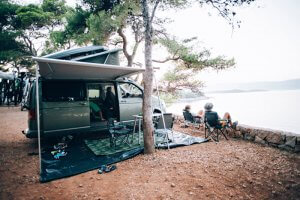 3 – Stargaze without having to lie in the dirt
When camping in a tent, you accept that fact that things are gonna get dirty. And when it comes to star-gazing, you simply poke your little heads out of the tend and soak it all up. It's a little bit tricky when you're camping with a caravan. It's not as though you can stick your head out the window and comfortably enjoy the view.
However, by investing in a camping mat for your caravan, you'll create a nice and comfortable space outside where you can star-gaze without having to lie down in the dirt. If it's dry out, you could even go one step further and bring out your sleeping bags and a load of cushions to create a super cosy snuggle-space!
If you like the sound of that, then head over to a reputable and reliable supplier. Shop around, do your research and then pack your bags, – because we're all going on a summer holiday!