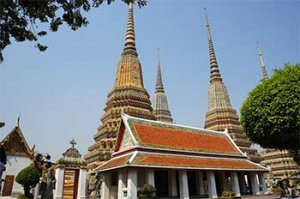 The capital city of Bangkok is one of the most popular tourist destinations in the world. However, it's fair to say that part of its appeal is not necessarily portrayed in the most positive light. The thing is that this has seemed to take over the image of the city and this is not a fair reflection on it. There is an enormous number of reasons why it is so popular outside of the major tourist attractions such as Wat Pho, Wat Phra Kaew and Khaosan Road. However, a lot of these other highlights are slightly off the radar if you google search points of interest on Google. So let's have a look of several of the hidden gems and less vaunted benefits of visiting the Big Mango.
Khlong Saen Seap
Starting in the Old City and reaching all the way out to Chachoengsao province this waterway is truly an experience not to be missed. Whilst Bangkok is renowned for its terrible traffic problems most people tend to only use the often impractical motorbike taxis or the MRT and BTS services. However, this Khlong, or canal, cuts right across central Bangkok from West to East and allows for a high-speed commute through some fascinating areas complete with quite individual views of the city. You can visit major locations such as Siam and its multitude of high-end shopping malls or trendy Thong Lor but all whilst seeing picturesque wooden houses, markets and temples in between.
Erawan Museum
Not far from Bearing station at the end of the line on the BTS you can take a quick taxi to see one of the most remarkable buildings not just in Bangkok but the whole world. The structure consists of a gigantic 3 headed elephant standing on a squat column base and the museum lets you climb up inside the elephant itself. The museum is full of antiquities and is well worth a visit but make sure you don't miss your chance to take a photo from outside because no descriptions of the place will quite do it justice.
The Ghost Tower
This skyscraper positioned in the heart of Sathorn is one of the most unusual sights you will see in Bangkok. Whilst the surrounding area is very upmarket this tower is completely abandoned and now open to the public. Previously people were not allowed access but many found their own ways in. However after sightings of dead bodies and the dangers associated with trespassing the ghost tower was opened to the public as a tourist attraction.
Home Delivery Everything
Thailand is renowned for its service. This extends to the home or at least the location in which you are staying. It is possible to have almost anything delivered. Even restaurants which don't technically do delivery will regularly allow you to order something and they will send it to you by motorbike, stopping at a shop on the way to pick up other things if required. Even the laundry delivery services in Bangkok can come to you and pick up your dirty clothes and return them to you on the same day if you wish.