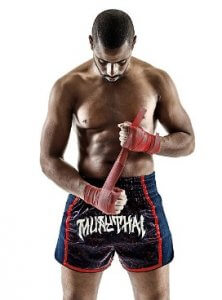 As with any kind of physical exertion, from pushups to walking up the stairs, obviously a vigorous and energetic sport like Muay Thai is going to be great for keeping you fit. There is a reason that many Muay Thai and MMA fighters have amazing physiques and levels of athleticism, after years of honing their skills, their body has followed suit making them muscular, lean fighting machines that put other peoples bodies and physical abilities to shame. But let's look at some of the reasons that attending Muay Thai classes can help to improve your fitness in a number of different areas.
Fitness is ingrained into Muay Thai philosophy
To perform Muay Thai involves a lot of kicking and twisting, trapping and other high energy movements, subsequently, rather than being all about the physical aspect of fighting, the theory behind Muay Thai states that you must hone your whole body to become resistant to damage in order to inflict it. In the days-gone-by the actual focus on Muay Thai was more about being fit and athletic than being incredibly muscly or strong. This is because for up to five round (unless there is a knockout before that) you will be fighting man to man (or woman to woman) with another combatant in this highly energetic manner and it is of paramount importance that you do not tire easily.
It is a high cardio activity
Central to this philosophy is that cardio training when it comes to Muay Thai is far more important than weight training or muscle gain. It just isn't necessary to be that big as Muay Thai teaches you to be an effective and hard hitting fighter regardless of your physical size or stature. A good example of this would be to look to the home of Muay Thai, which is obviously Thailand, the people of Thailand are not exactly known for their tall or muscly size however they have managed to negate that by coming up with such an effective and efficient system of fighting. .
Flexibility
As we previously discussed, there is an awful lot of turning and twisting that goes into Muay Thai, not too mention the other activities like learning the different front kicks and the correct footwork all require a degree of flexibility and Muay Thai trainers practice flexibility drilling exercises so that they are prepared for whatever direction the fight may bring them in. This is because not being flexible enough and trying to over extend yourself can lead to serious injury and event permanent disablement. Its more for the safety of the practitioner than anything but you will; still find that extra flexibility paying off both in your gym performance and your overall endurance abilities.